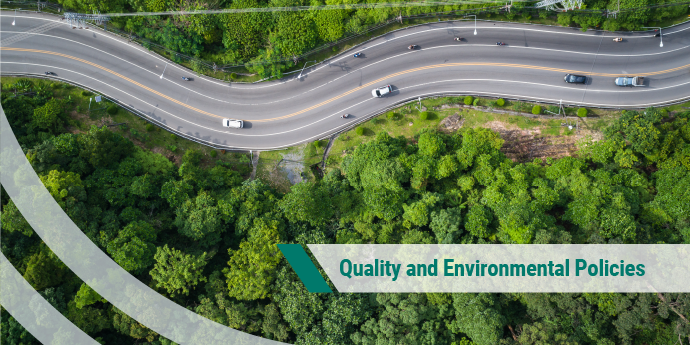 Corporate Policy
We are an effective and independent manufacturer of ball joints, consequently expanding our internationally leading market position in our business area linkage & suspensions. For that matter we seek "operational excellence" in all our processes, systems, standards and tools.
We develop and produce innovative and cost-effective products, combined with excellent service, in order to deliver the best possible and most exceptional solutions for our customer applications. For that purpose we face the global challenges of the market and commit ourselves to comply with legal, regulatory and customer specific requirements.
The value oriented managing of our enterprise is intensively supported by our Central Functions, with the target to expand our competencies and technology leadership. By focusing consistent on customer needs, we will ensure the leadership in our industry sector, customer loyalty and profitable growth.
Our Leadership processes direct the core business processes to achieve the company's goals, taking into account possible risks and opportunities, following the "THK" - enterprise slogan Our
Our policies are appropriate to the purpose and context of the organization and supports its strategic direction. They are providing a framework for setting objectives, as well as including a commitment to satisfy applicable requirements and continual improvement of the management system.
We are continuously improving the quality of our processes and products. Quality means to use our all experience to improve in all areas, to reduce costs and increase competitiveness. For that purpose, we follow the zero-defects principle and pursue continuous improvement in the effectiveness of our management system (PDCA-cycle).
The goal is best quality in our market segment, with concentration on fulfilling all customer expectations to generate the best possible customer satisfaction. We communicate the objectives with our employees and monitor their implementation. We set the focus on our employees, promoting them in terms of their creativity and diversity in order to tie them to the company, by following the seven quality management principles:
1.) customer focus; 2.) leadership; 3.) engagement of people;
4.) process approach; 5.) improvement;
6.) evidence-based decision making; 7.) relationship management;
The commercial success of our company, the health and safety of our employees as well as the effective protection of our environment with most efficient consume of energy, are all considered as important and equal company goals.
We design safe jobs and avoid accidents. We attach great importance to preventive action and protection of resources. With all new innovations, changes and their implementation, we therefore pay to recognize adverse impact on work safety and to minimize environmental and energy consumption.
We are committed to abide by the relevant rules and regulations. We set goals towards increasing energy efficiency, the improvement of environmental efforts as well as occupational health and safety. We provide the required resources for these goals and monitor achievement of objectives in review-meetings or in internal, as well as external audits.
We maintain an open dialogue with customers, suppliers, authorities and general public. We request our suppliers and service providers to set themselves comparable goals to ours.
We qualify our employees to enable them to recognize risks and defects und we implemented a system for contingency instructions, daily communication and active improvements. In addition we promote our employees in their personal development, motivation and satisfaction by regular feedback dialogues.